That was the KITZ-CHARITY-TROPHY 2018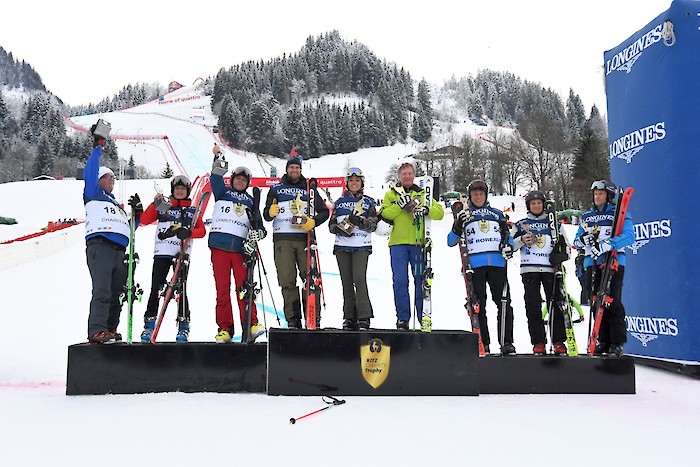 20.01.2018
One highlight follows hot on the heels of another –  the Streif never comes to rest. After the final racers swept into the finish area and final interviews had been conducted, the finish area was primed for the next highlight: the KITZ-CHARITY-TROPHY.  A charity race, aimed at collecting money for North and South Tyrolean farmers in need. The event was won by Team Ecclestone (Ecclestone Fabiana, Büchel Marco, Klammer Franz), ahead of Team Charity Founders (Berger Gerhard, Berger Helene, Friedle Gerry) and Team Borealis (Korvenranta Markku, Assinger Armin, Roodhooft Philippe).
In addition to ex-ski racers such as Stephan Eberharter, Benni Raich and Didier Cuche, other Kitz Charity contenders including DJ Ötzi, Tobias Moretti and Bernie Ecclestone's wife, Fabiana Ecclestone, demonstrated their skiing prowess.  Ecclestone was not only responsible for raising the chequered flag during the race, but as Race Director, that all rules were adhered to.
Marketers of the Hahnekamm Races, WWP Weirather-Wenzel & Partner advertising agency, is the initiator of this worthy event and has organised it since its very inception.  Euro 150,000   very inception aree Agentur ihres Zeichens auch Vermarkter der Hahnenkamm-Rennen. 150.000 Euro was raised. 
Photo © K.S.C.
---
Related Posts
---