Union Jack at the Hahnenkamm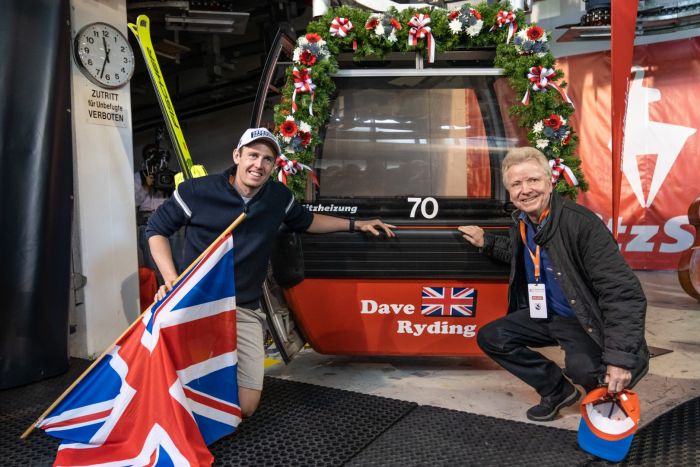 30.05.2022
After his triumph on the Ganslern Slope in January, Slalom specialist, Dave Ryding (35), returned to Kitzbühel on Friday for the official presentation of his Hahnenkamm gondola. Great Britain's first ever World Cup winner, is now the only Briton to have a gondola named after him.
"This is undoubtedly the best year of my life," admits Dave Ryding candidly. It has, in fact, been a never-ending round of celebrations for the 35-year-old Brit since January. To start with, he secured Britain's first ever World Cup win with an emphatic triumph on the Ganslern Slope during the 82nd Hahnenkamm Races, followed by his wedding to Mandy, and now the Rydings are soon to welcome their first child. The next highlight for the slalom specialist from northern England took place on Friday: his name is now emblazoned across his very own Hahnenkamm gondola.
Great Britain's ski sport was officially represented at the ceremony by Lord Colin Moynihan, former sports minister and former president of the British Olympic Committee. Moynihan described the sheer dimension of Dave Ryding's World Cup victory with these words: "His triumph on the Ganslern Slope has provided inspiration for generations to come. Particularly for British skiing and the many young skiers who believed they could never make it to the top. Dave is one of our country's greatest athletes."
Michael Huber, President of Kitzbühel Ski Club, recalled the beginnings of Dave Ryding's journey, to the echelons of international ski sport: "Dave first skied on plastic mats at the age of eight, and only skied on snow for the first time when he was twelve. His influence as a role model for the next generation is of immense importance, because he demonstrates that you can become a Hahnenkamm winner, even if you have not always had the best conditions at your disposal. Anton Bodner, Chairman of the Board at Bergbahn AG Kitzbühel, thanked Dave Ryding "for the magical moments you have given us", and also acknowledged the inspirational effect Dave's triumph has had on ski sport and far beyond. "We need people like Dave. People who inspire us and are role models for our children."
Dave Ryding was both moved and proud of his accomplishment on the snow-covered Ganslern on 22nd January 2022 - a day etched for eternity in Britain's skiing history. "This year has been very kind to me. First the slalom win, then the wedding, soon our baby will arrive and today the gondola - it's far more than I ever dreamed of," said the 35-year-old. He was quick, however, to share the credit of his accomplishment. " January's victory was not only for me, but also for my team, my teammates, the sponsors, the young talent - and everyone who has been involved." The gondola decorated with Dave Ryding's name and the Union Jack "means everything to me," says the Englishman, "it represents what I have achieved, and that in a ski-mad country like Austria. It just couldn't be better." Incidentally, Dave Ryding's gondola bears the number 70, and he was also presented with a miniature version to take back home to Tarleton.
Dave Ryding may be the first World Cup winner in Great Britain's ski sport history, but there are in fact two others who preceded him in Kitzbühel. Gordon Cleaver, for example, emerged as winner of the Combined at the very first Hahnenkamm Race in 1931, followed by Evelyn Pinching in 1937, who triumphed in the Downhill, which was then contested for the first time on the new Streif Racecourse.
Fotocredits: Kitzbüheler Ski Club (K.S.C.) | alpinguin
Image Gallery
---
Related Posts
---