A legend is about to cross the finish line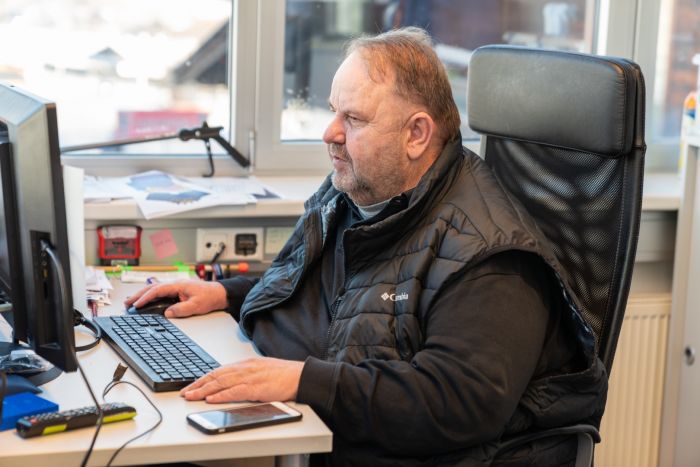 17.01.2023
After the 23rd Hahnenkamm Race as Head of Infrastructure for Kitzbühel Ski Club, Mandi Goller is entering his home straight. He is about to retire and now gratefully bids farewell.
A Hahnenkamm Race without him will be unchartered territory for both Kitzbühel Ski Club and Kitzbühel locals, but the time has now come: Mandi Goller is set to retire after the 83rd races, with the 2023 event being his 23rd and last: "It's time to leave it to the young ones. At some point it's just over and I would like to take this opportunity to say thank you," says the head of infrastructure at KSC composedly. How would he himself describe his extensive duties? "I'm not responsible for the slope, not for safety, nor for the athletes or the press centre, but for everything else," he told the Tiroler Tageszeitung newspaper during an interview published about him last year. Michael Huber, Ski Club President, affectionately calls him "Stadium boss" because he is in charge of most of the infrastructure located in the finish area.
Mandi Goller also mentions Michael Huber's name when asked about the nicest moments in more than two decades of Hahnenkamm Races: "It has been a wonderful experience to be able to work with him." His work for the Ski Club started in 2000 when Michael Huber said, "let's give it a go", and has since developed into a constructive and targeted cooperation: "I cannot do this, I don't like it or that doesn't work – are phrases that have never existed. We always tried everything and of course fell flat on our faces occasionally, but that's part of the game." Countless times the weather put a spanner in the works, countless times plans had to be changed at short notice, countless times everything turned out well. He would like to forget the races amidst the 2021 pandemic: "No year was more challenging. I drew up between 25 and 35 different plans for the finish area, in the end we didn't do anything at all and just erected some flags," because no spectators were allowed back then. "Of course I've had sleepless nights, but looking back, the positive outweighs the negative. It's fantastic how this work at the Ski Club has drawn us together."
Is there a recipe for success for the work of the Ski Club? "Yes, it is our continuity. For the most part, we have been working with the same people for years and this is clearly noticeable in the smooth workflow. I would like to take this opportunity to thank the many students, 'my' pensioners and the many companies with whom we have worked. I wouldn't have been any good without them," the trained roofer and tinsmith enthusiastically explains.
Does the Kitzbühel local already know where he will be during the 2024 Hahnenkamm Races? "Yes, I will be at home in front of the TV." His successor joined the team last year. His name is Joachim Thünauer and he is working alongside Mandi Goller this year, after which he will follow in Mandi's footsteps.

Photo © K.S.C./alpinguin
---
Related Posts
---