All systems go for the Organizing Committee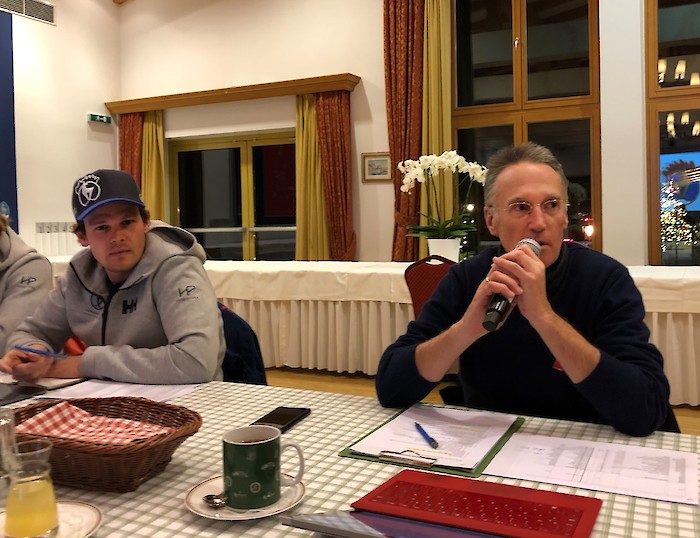 03.12.2019
The general meeting heralded the start of the work of the Select Organising Committee (OC). Kitzbühel Ski Club (KSC), Organizer of the Hahnenkamm Races (HKR), invited participants to a general meeting on Monday, December 2nd. Detailed work can now begin.
This gathering was attended not only by OC team leaders, but also by representatives of the authorities, the rescue services and partner organisations such as WWP and ARGE partners (Bergbahn AG Cable Car Co., City of Kitzbühel and Kitzbühel Tourism).
OK chief, Michael Huber, reported on the programme, numerous details and adjustments. All those present assured their full commitment, in a strong display of the abiding passion the Organizing Committee has for Austria's biggest sporting festival, the Hahnenkamm Races.
Huber, a passionate ski historian, made the most of this opportunity to kindle memories of past Hahnenkamm races. For example, Didier Cuche (SUI) enjoyed twofold victory ten years ago in the Super-G and Downhill. In 2000, i.e. 20 years ago, Mario Matt (AUT) won the slalom with the high start number of 47, "an incredible achievement", says Huber. The OC chief reported on the best races, with an eye to the upcoming race week.
One of the major innovations is the new ticket office in Hahnenkammstrasse, where there will also be an HKR fan shop during the race week.  A lot has happened in the past months with regard to the technical facilities, new or additional fibre optic cables were laid from the finish line to the "Lärchenschuss" and numerous shafts were renewed for technical equipment. In addition to the fixed fence, a special net was also installed on the "Steilhang", not only for the safety of the racers, but also for those who work on the slope. Speakers also benefit from new rooms "with 360° panoramic views," which were created on the "Zielhaus" roof. 
---
Related Posts
---