Anderl Molterer – the "Blonde Thunderbolt from Kitz"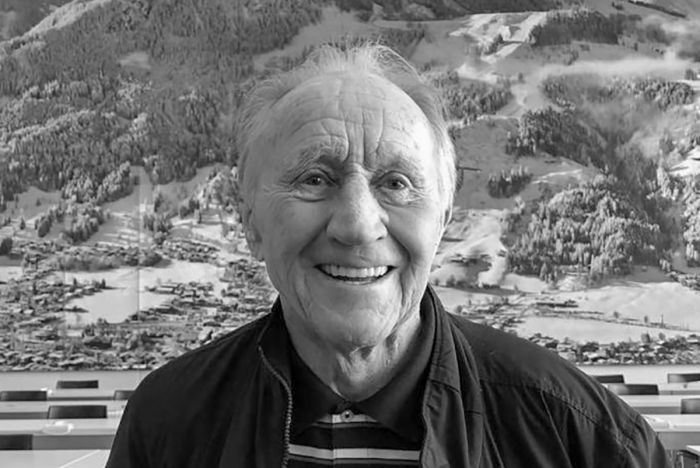 26.10.2023
It is with sadness that Kitzbühel Ski Club announces the loss of Kitzbühel's Hahnenkamm Legend of the Century and member of Kitzbühel Wonder Ski Team, Anderl Molterer, who passed away during the night of 24th-25th October 2023. May he rest in peace.
His success story remains impressive to this day. He triumphed nine times at the Hahnenkamm Races alone - more than anyone else in history. Anderl Molterer is four-time winner of the Combined discipline, triple winner of the Slalom and two-time victor of the Downhill on the Streif, achieving his final victory in 1959.
After his active career, Anderl lived with his partner Kay in the USA for over 60 years. After her passing in late autumn 2022, Anderl set out to spend his remaining twilight years in his hometown of Kitzbühel, a wish he had often expressed. At the end of July this year, he finally returned to Kitzbühel soil and was cared for by his relatives from the Brix family. The exertions of the journey, however, took their toll, resulting in Anderl being admitted to St. Johann Hospital several times. At the beginning of October, he moved from his apartment to Kitzbühel old people's home, where he quietly and peacefully fell asleep fora final time during the night from Tuesday to Wednesday.
K.S.C. will forever cherish his memory as an exceptional sportsman and exemplary human being.
ANDREAS "ANDERL" MOLTERER
PERSONAL DETAILS (excerpt)
Born: 8th October 1931 in Kitzbühel
Profession: Carpenter
Partner:  Kay Cheek (1958 - 2022)
Deceased: 24th October 2023 in Kitzbühel
SPORTING SUCCESSES (excerpt)
Olympic Winter Games: 1x Silver, 1x Bronze
FIS World Championships 1x Silver, 2x Bronze
PRO World Champion: 4 titles
Hahnenkamm Races: 9 wins
Arlberg-Kandahar-Race: 6 wins
Lauberhorn Race: 5 wins
Harriman Cup (USA): 1 win
Austrian Champion: 11 titles
SPORTING HONOURS (excerpt)
1952: "Kitzbühel Ski Club - Highest Sporting Achievements in Gold".
1953, 1955, 1956: Winner of the Skieur d'Or title (unofficial world ranking by L'Equipe magazine )
1956: Arlberg-Kandahar Honorary Diamond Award
1965: "Hahnenkamm Golden Pin of Honour"
1984: Tyrolean Sports Medal of Honour
1996: "Grand Decoration of Honour in Silver for Services to the Republic of Austria".
1997: "Legend of Honour" award in Vail/Beaver Creek USA
2000: "Hahnenkamm-Champion of the Century" award in Kitzbühel
2002: Inducted into the Colorado Ski Hall of Fame USA
---
Related Posts
---