Cushioning that no one wants to land on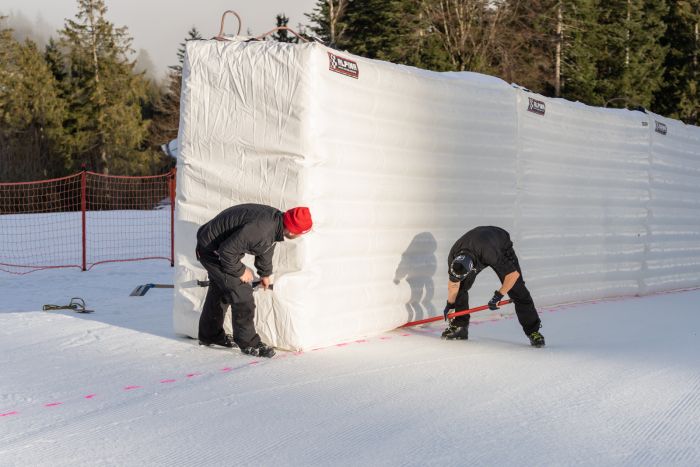 12.01.2023
Around 150 airfences, also known as air cushions, provide additional safety along the Streif. 14 new models were installed at the Lärchenschuss section on Thursday.
Joan Verdu is the perfect person to ask about the advantages of airfences. The all-rounder from Andorra crashed into one at high speed during the Giant Slalom in Adelboden on 7th January and clambered back onto the slope unscathed shortly afterwards. Around 150 airfences provide safety along the entire Streif racecourse – most conspicuously at the finish line. 14 brand new models were installed at the Lärchenschuss section on Thursday. These are even higher than previous models and secure the section where racers make a 90-degree turn from the Seidlalm towards Oberhausberg.
Ideally, the air-filled plastic cushions will be stowed away unused after the second Downhill event. Should their services be required, however, the downed athlete benefits from their airbag-like properties. An airfence in the Lärchenschuss section weighs around 130 kilograms – an incumbrance that becomes immediately apparent to the safety team given the laborious task of fastening it to the slippery ground. They take five to ten minutes to fill with air before being transported to their final destination by skidoo. The cushions have a front and rear chamber as well as four spacers, with air in between. On impact, the airfence cushions the downhill skier and absorbs the kinetic energy, while gently dissipating their speed. However, as is the case with all safety padding: no one really wants to put them to the test.
Photo © K.S.C./alpinguin
---
Related Posts
---