Festival of Nations - 27 teams registered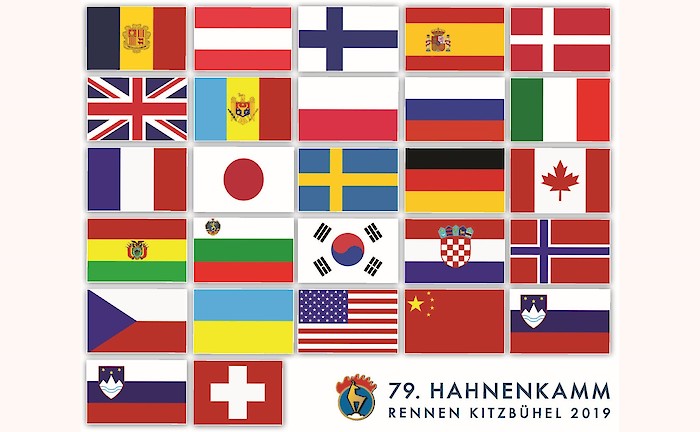 20.12.2018
The Hahnenkamm Races, Austria's greatest sporting festival, will be a festival of nations all over again in 2019. The organizers, Kitzbühel Ski Club, are delighted to welcome all registered athletes. The fans, however, also deserve a special mention as they support and "carry" every ski racer over the finish line with their applause. The "Festival of Nations and Generations" at Hahnenkamm represents great togetherness and solidarity. The sporting philosophy is to focus on all participating persons, regardless of which nation they come from.
The Organising Committee was delighted to receive entries from 27 countries, including Andorra, Bolivia, Bulgaria, Canada, China, Croatia, Czech Republic, Denmark, Finland, France, Germany, Great Britain, Italy, Japan, Korea, Moldova, Norway, Austria, Poland, Russia, Sweden, Switzerland, Ukraine, the United Kingdom, the United States and Bolivia.
Before the world elite join the star-line, however, Junior and European Cup athletes will be competing for podium positions. "The skiing world will assemble in Kitzbühel, it will be a sports week of generations, a sports festival of nations," says OC chief, Michael Huber. 
The fans come from even more different national backgrounds and the atmosphere they create in the finish area of the Streif and the Ganslern is unparalleled!  Celebrating and rejoicing as one - is the byword at the world's most challenging ski races.
---
Related Posts
---