Home victory at Ganslern - Team Tirol wins Junior Race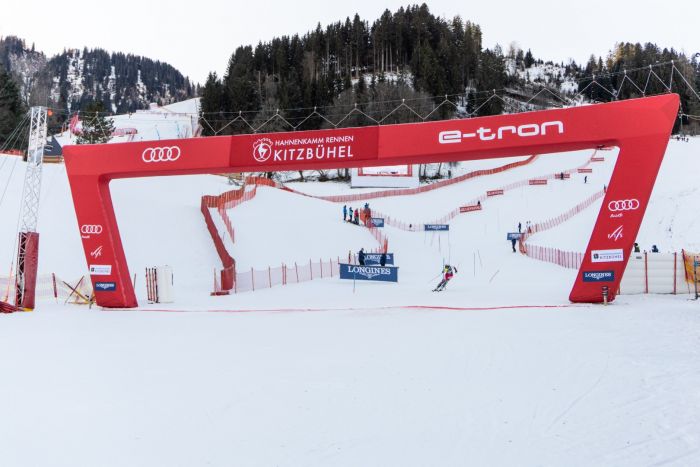 20.01.2022
Team Tirol swept to victory in the 16th Longines Future Hahnenkamm Champions Junior Race, ahead of teams from Switzerland and Germany.
After the traditional invitation race hosted by Kitzbühel Ski Club, Longines Future Hahnenkamm Champions Junior Race, had to be cancelled last year due to the pandemic, the Ganslern slope finally became a hotspot for Central Europe's best young skiers again on Wednesday. A total of 54 girls and boys born in 2006/2007 (U16) from seven nations were at the start-line: Italy, Slovenia, Switzerland, Germany, Croatia, Liechtenstein and Austria. The host country was represented by three teams: Austria 1, Austria 2 and Tirol. Each team consisted of three girls and three boys, with the race comprising of two slalom runs.
Team Tirol coped best with the precarious transitions on the left slanting Ganslern Slope. Maja Waroschitz, Sarah Huber, Larissa Reiter, Joshua Stinig, Justin Wieser and Asaja Sturm won with a total time of 4:20.41, ahead of their counterparts from Switzerland and Germany. 4th place went to the teenagers from Slovenia, 5th place to the Italians. Austria 2 (with Lena Ostermann, Stella Theresa Tschach, Antonia Muxel, Alexander Spacil, Leon Hafner and Tim Ranner) took 6th place, ahead of Austria 1 (with Lana Hillbrand, Elisa Eisner, Leonie Binna, Yannick Mangweth, Michael Schlintl and Stephan Koch).
Kitzbühel Ski Club has hosted the Longines Future Hahnenkamm Champions Junior Race event during Race Week ever since 2001. The 16th edition was held on Wednesday: "We want to offer young, aspiring athletes a platform to see what it feels like to be a professional racer," says KSC Secretary General Jan Überall about the race on the slope that will be hosting the Slalom World Cup this weekend. Since its premiere, Juniors Race contenders have included many participants and winners, who later emerged to cause a sensation on the World Cup, Olympic Games and World Championships circuit. These include, amongst others, Anna Veith, Marcel Hirscher, Matthias Mayer, Beat Feuz, Adrian Pertl, Dominik Paris, Eva-Maria Brem, Pepi Ferstl, Max Franz, Katharina Liensberger, Chiara Mair, Ariane Rädler and Ilka Stuhec.
Ergebnisse Longines Future Hahnenkamm Champions
Photo © KSC/alpinguin & KSC/Jürgen Klecha
---
Related Posts
---