KITZ-CHARITY-Trophy: 200,000 euros for mountain farmers in need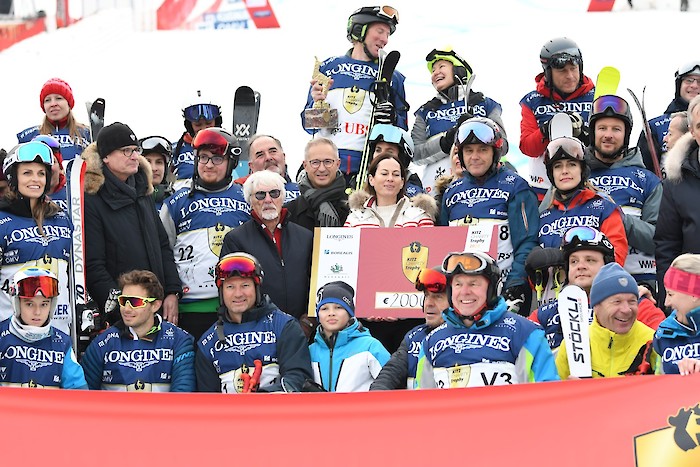 25.01.2020
KITZ-CHARITY-Trophy always takes place after the Downhill: this was also the case at the 80th Hahnenkamm Races. The charity event took place for the 23rd time after the sporting spectacle of the year. Donations for needy mountain farming families in South and North Tyrol are collected during this charity race. These are derived from participant starter fees and their sponsors. The venue for the event was once again the finishing slope of the notorious Streif racecourse.
The rules of the game are simple: famous faces from the worlds of sport, business and culture compete as three-person teams in a giant slalom. The times are added together and multiplied by a number from one to six - depending on which number the team captain subsequently rolls on a dice.
Victory went this year to the "UBS 1" team with captain Didier Cuche, Elena Bokova and Alfons Mensdorff-Poully: "We really enjoyed the event. The people and the atmosphere are great. And of course the occasion," said Streif King Cuche afterwards.
Second place went to team "WWP" with Nina Proll, Jani Neel and Steffi Köhle, followed by team "Mastercard 2" with Marijana Vasilescu, Markus Gremmel and Benjamin Raich.
Another Kitzbühel veteran was also keen to be involved in this charity event: Hias Leitner. "I enjoyed it very much. Now I would like to ski down the whole Streif," said the skiing legend in jest.
The focus of the KITZ-CHARITY-Trophy was of course more about the charity aspect, than the sporting results: € 200,000 was raised in donations this year - a remarkable sum. Incidentally, WWP agency (Weirather-Wenzel & Partner) has been initiator and organizer of the Trophy since its very inception.
Photo © K.S.C. / JK
---
Related Posts
---