Press conference with Romed Baumann & Dominik Paris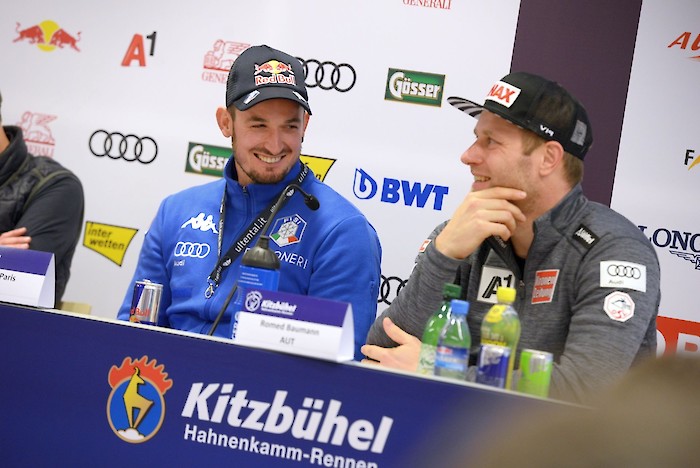 17.01.2018
"We're all in the same boat"
...were Axel Naglich's opening words at today's press conference with top-athletes Romed Baumann and Dominik Paris. They focussed on critique from yesterday's inspection and both racers were asked to give their opinion on the topic. "There was so much going on during the inspection, we weren't able to gauge our tempo properly.
"I became very passive after the Mausefalle yesterday, which is why I had lost so much time when I got to the finish. Visibility wasn't great, either"
...Austrian Romed Baumann explained. Dominik Paris agreed with these critiques and added:
"The comments relate exclusively to the jumps"
FIS Chief of Race Markus Waldner was able to reassure the athletes, confirming that the jumps in question had already been trimmed down. He further assured them that the surface of the jumps was in excellent condition. The real problem had been the fast snow, causing the racers to enter some of the passages up to 10 km/h faster than last year. "This new snowfall should provide us with a slower course in time for the weekend", Hannes Trinkl pointed out.
Romed Baumann was finally asked which of the sections were particularly influential on the outcome of the race, to which he quickly responded: "The Hausbergkante and Traverse."
A total of 700 people are working hard on the mountain to clear the racecourse from newly fallen snow.
"We're optimistic that the Races will go well"
...was Axel Naglich's closing comment at today's press conference.
Photo © K.S.C.
---
Related Posts
---