Super-G champion Kjetil Jansrud: The smile is back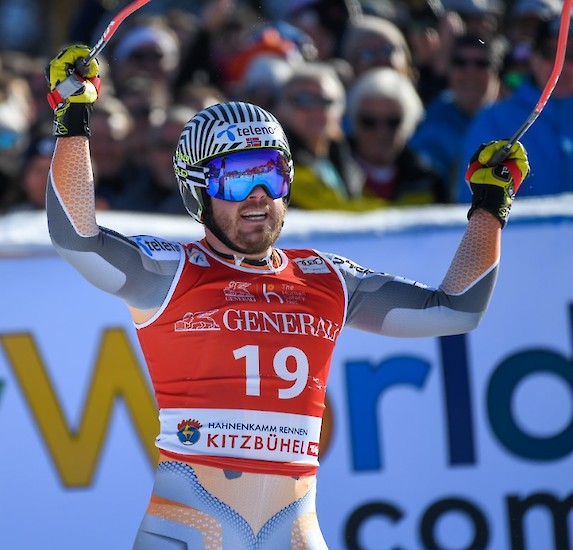 24.01.2020
A Norwegian success story: Jansrud raced to victory on this gloriously sunny Friday, followed closely by fellow countryman Aleksander Aamodt Kilde. He was thrilled with this triumph, especially after enduring a prolonged dry spell with no podium placements this winter.
"Of course, it's incredible to win here in Kitzbühel. I'm really pleased."
The charming Norwegian already has several success stories to look back on, the greatest of which would have been in 2014/15: This was the season in which he won the Downhill and Super-G discipline rating and claimed gold at the Sochi Winter Olympics Super-G. The 34-year-old also secured a World Championship Downhill title in Åre, Sweden in 2019. Not to mention his four other Olympic medals. Since 2003, he's achieved no less than 22 World Cup victories.
This isn't his first podium appearance in Kitzbühel: Five years ago, he came first in the Downhill, and in 2018 he raced to second place in the Super-G.
However, not all memories of Kitzbühel are positive for this year's Super-G victor: Last year, he broke his hand in a fall on the Streif. His comeback was quicker than expected, though: He was crowned World champion only 18 days after his injury.
If it wasn't clear before today, it certainly is now: Kitzbühel and the Streif will now always put a smile on this Norwegian's face.
Photo © SPIESS / AS-PHOTOGRAPHY
---
Related Posts
---