Two-fold victory for Norway in the Super-G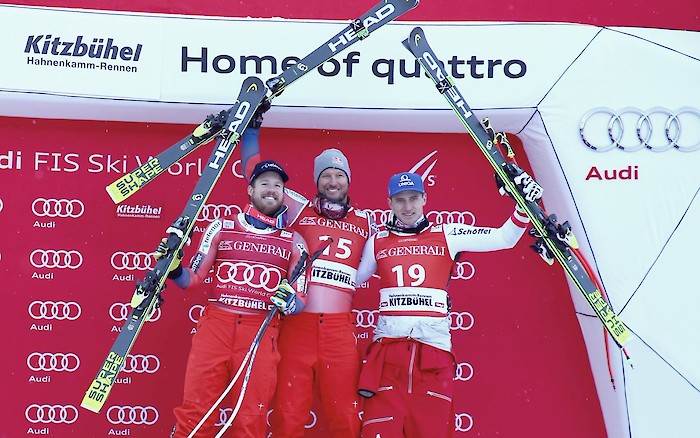 19.01.2018
Two-fold victory for Norway in the Hahnenkamm Super-G
Norway has triumphed and the 78th Hahnenkamm Super-G is now history. The golden "Gams" trophy will go to Aksel Lund Svindal today. His team colleague Kjetil Jansrud came second, and Austrian racer Matthias Mayer took third place.
The race started at the Mausefalle and ended at Oberhausberg – not the usual Super-G course due to weather conditions, but it seemed to play into the hands of our Norwegian Vikings: Svindal had a mere 0.5 second lead on his Scandinavian colleague Jansrud. He, in turn, crossed the finish line six hundredths of a second faster than Mayer, who made it onto the winner's podium despite a small tactical error:
"My ski jolted in the upper section and I landed in deeper snow. That slowed me down!"
The fact that the finish line was moved up to the Oberhausberg didn't seem to dampen the spectators' spirits one bit. Cheering fans, great music and a fantastic atmosphere – just what you expect from a Hahnenkamm Race.
The top three athletes will be presented with their "Gams" trophies at 18:30 hrs this evening at the Red Bull Zielhaus in the finish area, just after the bib draw for tomorrow's Downhill.
Photo © K.S.C.
---
Related Posts
---