Where to watch the races on TV and online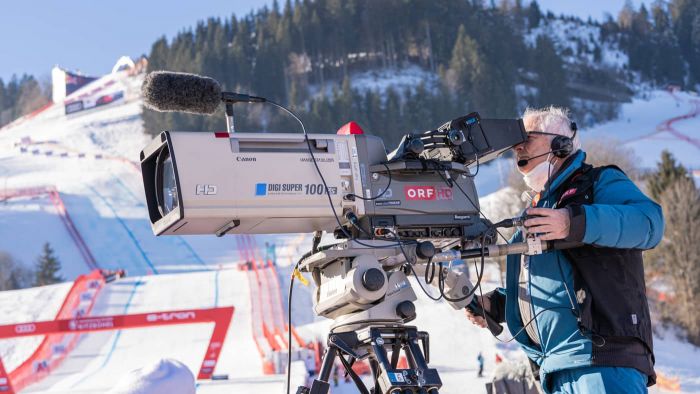 21.01.2022
The Hahnenkamm Races are even screened in Thailand and New Zealand. ORF is sending a drone to the skies to film this year. Here you will find an overview of the most important channels.
From Germany to Canada, Italy to Japan, in Finland, the USA to Thailand or China - the Hahnenkamm Races are screened in all corners of the world - live in almost 20 countries alone. Almost 100 broadcasters in total will report on the happenings on the Streif in 2022. Our host broadcaster ORF will broadcast all three races live on ORF 1 and via stream on ORF-TVthek (within Austria). It all starts on Thursday, 20th January, at 10.55 hrs with the Downhill training. On Friday (downhill) and Sunday (downhill) ORF 1 will commence transmissions at 10.50 a.m. and 12.55 p.m. respectively, then at 10 hrs on Saturday for the slalom.
Michael Kögler has access to a total of 49 cameras for the 2022 speed broadcasts, the most spectacular of which is undoubtedly drone footage, which streams live images of the Downhill stars as it chases them in hot pursuit down the racecourse. Kögler:
"The drone can be accelerated to speeds of over 100 km/h and is controlled by one of the world's best drone cameramen, Daniel Ausweger. This will deliver unprecedented live footage of the races. I can only advise the viewers - to fasten your seatbelts!"
A special service is offered by ORF SPORT +, which broadcasts the Team Captains' Meetings on Thursday, Friday and Saturday at 17 hrs. ORF 1 is also screening the film, "Streif – One Hell of a Ride" on Saturday evening at 21.50 hrs.
Germany, Switzerland, Italy, Streaming
ARD will be broadcasting from Kitzbühel for German viewers on all three race days, while SRF 2 provides thrilling coverage for Swiss audiences. Eurosport and the Italian Rai will also be reporting live throughout the weekend. Exact broadcasting times can be found on the website of the respective broadcasting station. Calling fans outside Europe! You can watch the Hahnenkamm races live, free of charge and with English commentary on https://app.skiworldcup.live/home. Not only can you watch live action from the races there, but also relive them as a catch-up, or see all the highlights.
The following countries will be broadcasting live from Kitzbühel:
Austria (ORF)
Germany (ARD, Eurosport)
Switzerland (SRG)
Croatia (HRT)
Czech Republic (CZTV)
Finland (YLE)
France (Eurosport)
Italy (RAI)
Slovenia (RTV)
Norway (TV2)
Sweden (SVT)
Great Britain (BBC)
USA (Peacock Network)
Thailand (Mono/33BTV)
China (MIGU)
Japan (JSports)
Canada (CBC)
New Zealand (Sky)
Worldwide Inflight/Inship (Sport24)
Photo © K.S.C. / alpinguin
---
Related Posts
---