Where to watch the races on TV and online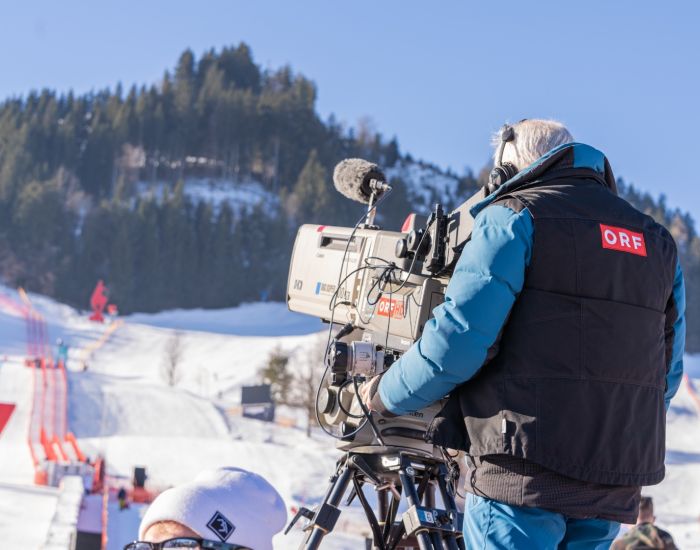 19.01.2023
The Hahnenkamm Races are even screened in China and Japan. ORF is sending two drones to the skies to film this year. Here you will find an overview of the most important TV channels. 
From Germany to Canada, Italy to Japan, in Finland, the USA to Sweden or China - the Hahnenkamm Races are screened in all corners of the world - live in almost 30 countries alone. Almost 100 broadcasters in total will report on the happenings on the Streif in 2023. Our host broadcaster ORF will screen all three races live on ORF 1 and via stream on the ORF-TV-thek (within Austria!). It all starts on Thursday, 19th January, at 11.45 hrs with the second Downhill training run. ORF 1 will commence transmissions again at 10.55 hrs on both Friday (Downhill) and Saturday (Downhill), and on Sunday at 10.00 hrs and 12.50 hrs respectively with the Slalom. 
Michael Kögler can rely on the support of no less than 50 cameras for the two Downhill races this year. After the spectacular drone premiere last year, a second drone will now be deployed to allow TV fans to race virtually alongside the skiers right from the Hausbergkante to the finish line: "The drones can be accelerated to more than 100 km/h, controlled by the team of one of the world's best drone cameramen, Daniel Ausweger." But that's not all: "This year we are also focusing on the start area and the Mausefalle, where by positioning the cameras appropriately, the audience will virtually 'fly' alongside the racers and experience the incredible steepness of both sections of the course even more intensely," says Kögler. Moreover, ORF viewers who simply can't get enough of the Hahnenkamm Races, can enjoy live screening of the award ceremonies from the Finish House on Friday and Saturday from 18:00 hrs onwards. The finale follows on Sunday at 20.15 hrs on ORF 1 with "Die Gams ist los - Best of Kitzbühel 2023".
Germany, Switzerland, Italy & USA
ZDF will be broadcasting from Kitzbühel for German viewers on all three race days, while SRG provides thrilling coverage for Swiss audiences.  Eurosport 2 and Italy's Rai will also be broadcasting live throughout the weekend. The USA's NBC will be broadcasting live from Kitzbühel as the only World Cup race of the season. Exact broadcasting times can be found on the respective broadcaster's website.
The following countries will be broadcasting live from Kitzbühel: 
Austria (ORF)
Germany (ZDF, Eurosport 2)
Switzerland (SRG)
Great Britain (BBC) 
USA (NBC)
Canada (CBC)
France (Eurosport)
Croatia (HRT)
Czech Republic (CZTV)
Slovakia (SKR TV)
Finland (YLE)
Italy (RAI) 
Slovenia (RTV)  
Norway (NRK) 
Sweden (SVT) 
China (CCTV)
Japan (JSports) 
Photo © K.S.C./alpinguin
---
Related Posts
---