A race of the highest calibre for the youngsters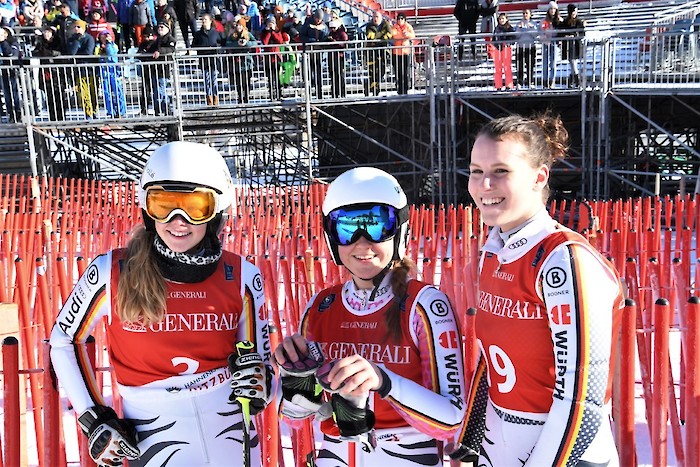 22.01.2020
The first run was a testing Giant Slalom, the second a twisting Slalom. The Longines Future Hahnenkamm Champions Race once again posed an enormous challenge for the young athletes this year. As in previous years, the young ski generation, consisting of 14- to 15-year-old talents, provided a spectacle that is internationally unrivalled.
The winner of the 20th anniversary event was Team Tirol: Natalie Falch, Leonie Raich, Elisabeth Graupp-Riegler, Tobias Pittracher, Fabian Geisler and Simon Wachter. The Tyroleans demonstrated their great class and won with a total time of 5:00.38.
"It was a great experience and really a lot of fun,"
Fabian Geisler was delighted for both himself and his team.
Natalie Falch accentuated after the race:
"This race is unique and it is a great honour to just be able to participate. To then go on and win is just great!"
Team Austria 2 with Valentina Rings-Wanner, Amelie Gstrein, Eva Premstaller, David Zehenter, Adrian Dion Tschach and Niklas Kurz were happy with second place. They lagged only 06:62 (5: 07.14) behind the winning team.
The podium was completed by Team Austria 1: Viktoria Bürgler, Victoria Olivier, Anna Rauchmann, Paul Wagner, Elias Ellmer and Clemens Rettenwander, who accomplished a time of 5:09.67.
The team from Italy just missed a podium position (5:11:07). Team Germany came fifth (5:19:63). Slovenia finished sixth with a time of 5:24.21. The Czech team finished seventh (5:32.86) and Team Switzerland finished eighth on the challenging Ganslern Slope, with a total time of 5:37.54.
This will certainly not have been the last appearance in Kitzbühel for some of the participating skiers. After all, stars such as Dominik Paris and Beat Feuz once took part in this fascinating junior race. This is sure to fuel motivation levels for this year's participants, as well as their hopes to continue pursuing the dream.
Photo © K.S.C.
Image Gallery
---
Related Posts
---