Climbing up and clipping in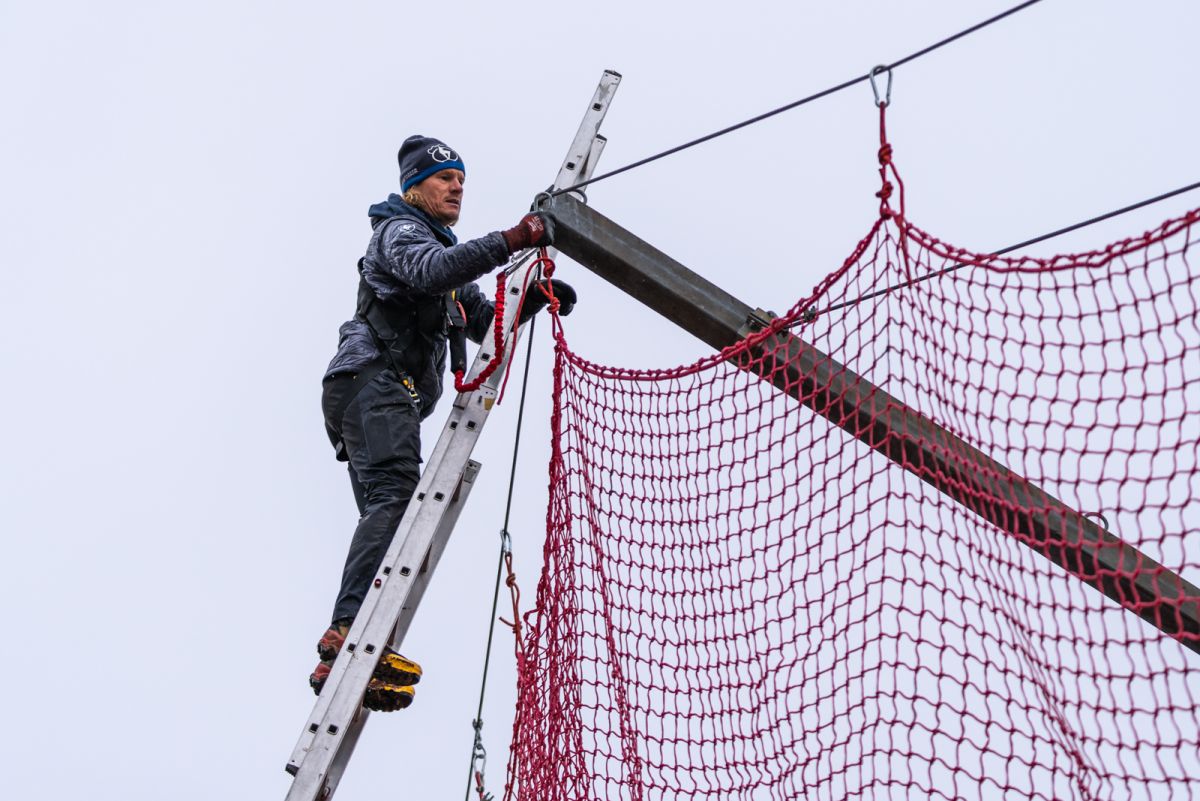 08.11.2023
Winter is drawing inexorably closer and preparations along the Streif are going like clockwork. Over the past few days, the mountain team has been installing A-nets in the Seidlalm area. A task that requires strength, patience and diligence.
The Hahnenkamm is rarely as quiet as it is these days. But now, in the middle of autumn and as school holidays end, the only thing causing a commotion both on the mountain and alongside the Streif are the songbirds. You can barely even hear Peter, Toni and Mario, as they are a seasoned team whose every move is well-rehearsed.
Early this week, the trio was busy installing A nets on the Seidlalm. To make this key section as safe as possible for the athletes, the nets are hung in two rows. A bale of netting weighs around 100 kilograms and it requires four strong men with stamina and surefootedness to lift it into place. Around 300 metres of A-nets are installed in the Seidlalm area.
"When attaching the nets, it is important to ensure that the person on the ladder is secured and that the ladder is stable," says Peter Widmoser from the Kitzbühel Ski Club mountain team. And in such rough terrain, you need a snow pick to level out the uneven footing for the ladder. It also goes without saying that you need a good head for heights when working up here! The A-nets are only attached to the ground just before Race Week - using a fixed ground rope when there is little snow, and with so-called snow discs that are buried deep underground when there is more.
"Work along the racecourse now depends on the weather," says Peter Widmoser.  The A-nets in the Stelhang and along the Steilhang exit sections are already in place, only those below the Traverse are yet to be installed. Preparations are running smoothly thus far. The impressive Energy Station next to the Starthaus is also virtually complete: "Furniture has even been installed, only the electric cables are outstanding," says Mario Mittermayer-Weinhandl, who once again helped to set up the Energy Station. This week, he is supporting the mountain team with netting installations: "It's always a special experience when Mario is involved. We're delighted to have his help and it's also a sign of appreciation for our work," says Peter Widmoser with a big smile.  
Eager anticipation for the 84th Hahnenkamm Races is already palpable - among the Organizers, as well as the fans. Those wanting to secure their tickets in good time can find out more here.
Photo © K.S.C./alpinguin
---
Related Posts
---