Deployment site: Streif – the soldiers are here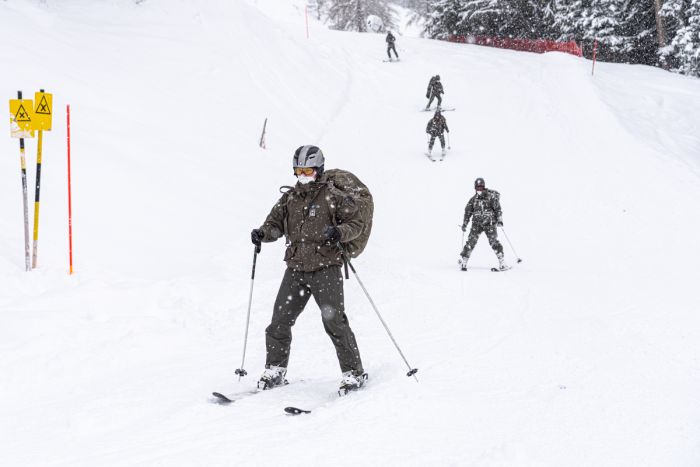 18.01.2021
Over 70 soldiers have been supporting preparation work for the Hahnenkamm Races since Monday, 7.30 hrs. A traditional commitment associated with much responsibility and joy.
71 soldiers from the 26th Jäger Battalion from Spittal and Supply Regiment 1 in Gratkorn have been engaged in a very special mission since early Monday morning: they are helping prepare the Streif. During his welcoming speech at 7.30 hrs in front of the Hahnenkamm cable car valley station, OC Chief, Michael Huber, thanked the soldiers for their commitment and emphasised the special significance of the 81st  Hahnenkamm Race during a pandemic and without spectators: The aim is to "provide people with a piece of normality."
What Michael Huber appreciates about the soldiers is their "special ability to move around in steep icy terrain and work there in a targeted and flexible manner, under complex organizational conditions. "Lieutenant Erdt explains what qualifies a soldier for the job on the Streif: "Our people are agile on both skis and crampons and have a level of physical fitness that enables them to last the whole day on the Streif." The task is also a special undertaking: "We are very excited because we are all here for the first time. We take the job seriously and are looking forward to it," says Erdt, before setting off with his troop towards the Hahnenkamm lift.
---
Related Posts
---