Swathed in white splendour on Monday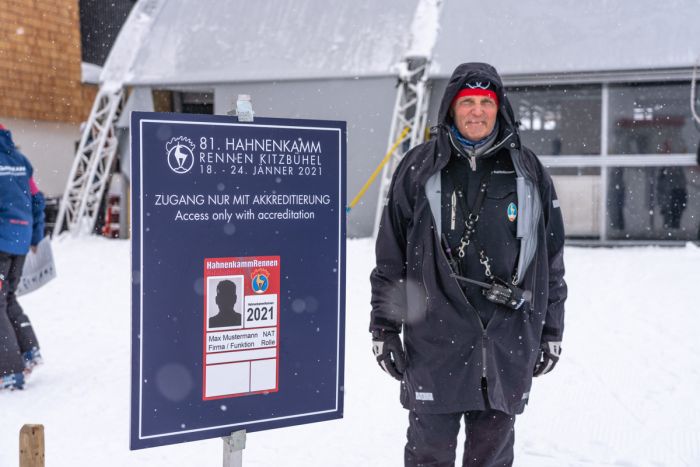 19.01.2021
New week, new snow. The Hahnenkamm working week began with clearing fresh snow from the racecourse. Up to six snow groomers were required for the task, while manual labour was necessary for the Hausbergkante section.
Around 20 cm of fresh snow fell on the Hahnenkamm on Sunday night and a large part of the work force turned up at the Hahnenkamm cable car base station as early as 7.30 hrs on Monday morning: including 71 soldiers from the 26th Jäger Battalion from Spittal and Supply Regiment 1 in Gratkorn, who have been engaged for this special mission and immediately commenced work as part of the support provided by the Austrian Armed Forces.
Heavy machinery was required to clear the snow masses from Start Slope to the Oberhausberg section. No less than six grooming vehicles were in use on Monday, four of them equipped with a winch and one with a winch and snowblower. Preparation work on improving the condition of the racecourse by adding water was also continued in the morning.
Fine tuning was required under the Hausbergkante section: ski instructors from Element3 and the Red Devils formed a slip crew, who smoothed snow from the course, which was then shovelled away by soldiers. An effective system implemented by the well-rehearsed Kitzbühel piste managers. The mood among those in charge was buoyant. The Streif has been pretty much race-ready since last week and a dump of fresh snow won't change that. As the weather forecast is better for Wednesday and Thursday, work will continue on the course on Tuesday and training will start on Wednesday.
---
Related Posts
---