FIS gives green light for the Hahnenkamm Races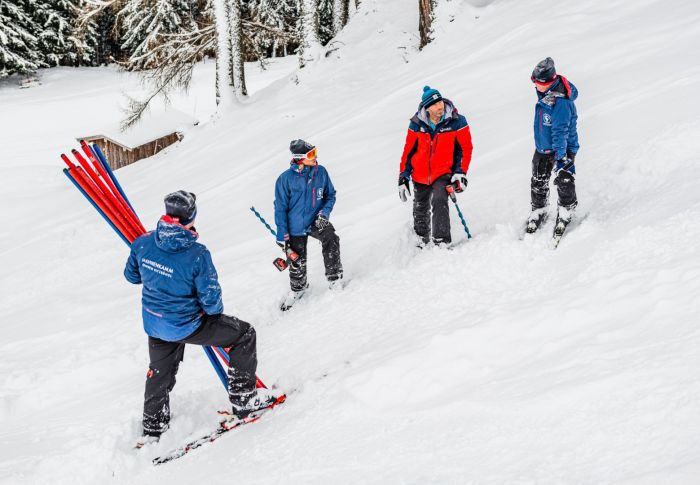 07.01.2022
Epiphany heralded a wintry and very pleasing snow check on the Hahnenkamm. According to FIS Race Director, Hannes Trinkl, nothing now stands in the way of the two Downhill and Slalom races: "We have super snow cover from the top right down to the bottom." The first Downhill is scheduled to take place on 21st January.
Kitzbühel is wintry white all over again, just in time for FIS snow checks, with the mountains swathed in a mantle of up to 20 centimetres of fresh snow. Fortuitous conditions that meant this eagerly awaited date ended up not only being a meticulous racecourse inspection, but also a welcome opportunity to indulge some deep snow runs. Shortly before the finish section, FIS Race Director Hannes Trinkl drew a satisfied conclusion: "We have super snow conditions from the top right down to the bottom, both in terms of slope width and snow cover depth. The fresh snow is also very beneficial for potential crash zones." So, nothing now stands in the way of the two Downhill runs on 21st and 22nd January and the Slalom on 23rd January.
Together with the Hahnenkamm Race Slope Managers, Hannes Trinkl took a very close look at the Hausberg Compression and Traverse sections. Terrain corrections were carried out here in the summer, thus widening the route by around 50 metres. Objective of these modifications: to increase the curve radius in the Compression and reduce athletes' speeds in the Traverse. Hannes Trinkl explains the desired effect: "The Traverse will certainly be a little more challenging, but that also means more interesting. You can gain time here, or lose it just as easily.
On Friday, work on the Streif and Ganslernhang slopes will continue after expected snowfall in the next few hours.
Race Organizers, Kitzbühel Ski Club, were also able to inform FIS of the result of the government's press conference on combating the pandemic, which should continue to facilitate the hosting of top sporting events in the coming weeks. Final consultations are underway for allowing a limited number of seated spectators on the grandstands and online ticket sales should be available from next week.
---
Related Posts
---