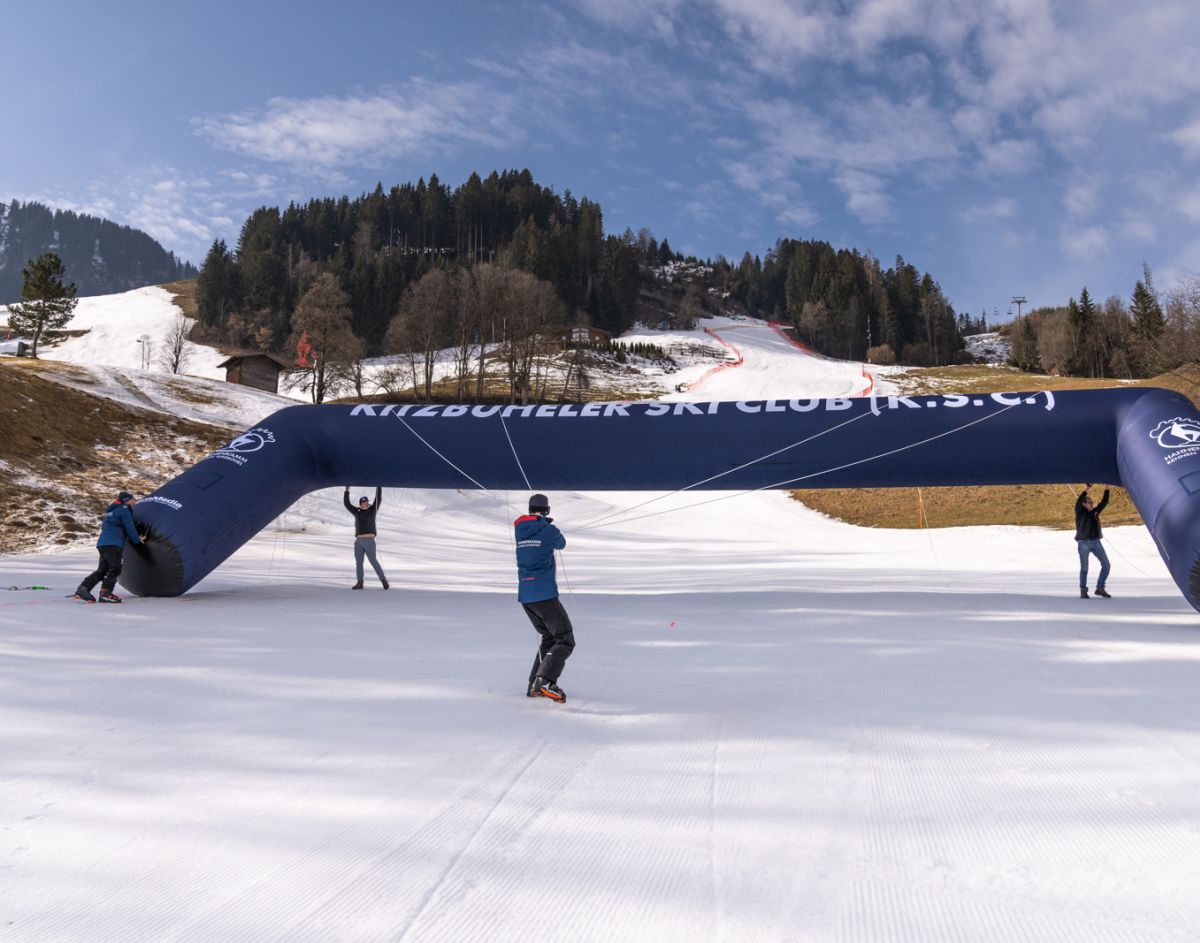 24.02.2023
The Ganslern Slope is a hive of activity all over again. Kitzbühel Ski Club and KitzSki have been transforming the course into a race-ready condition since Thursday, in preparation for the two Para Alpine Ski World Cup slalom races on Monday and Tuesday.
After a relaxed phase with less skiing but lots of sunshine, the Ganslern Slope has been given a fresh makeover since Thursday. Working crews from Kitzbühel Ski Club and KitzSki have been given the task of preparing the one-kilometre long course again, because this is where the Para Alpine Ski World Cup will be taking place from Sunday. After warm-up sessions, two slalom races for women and men will follow on Monday and Tuesday - in the "standing", "sitting" and "visually impaired" categories.
Preparations are very similar to those in January during the Hahnenkamm Week. Christian Schroll, deputy piste manager, explains: "The Ganslern was mechanically groomed on Thursday, whereby it was particularly important to ensure an even snow covering. We don't add any water, because we don't want the course to be too hard." Schroll's piste team worked with four people on the slope on Friday, supported by the mountain team led by Peter Widmoser and Tom Voithofer's ten-man safety team, who installed around four kilometres of B and BC fences.
The course length, start and finish positions are identical to those in the World Cup, and there will be no major differences in the gate distances either.  Brand new, however, is the dark blue finish arch, which was installed on Friday afternoon. Mario Mittermayer-Weinhandl was also actively involved: "We are delighted to be able to organise these two races. Para sport deserves much more public exposure," says the Chief of Race. And there will be no shortage of this, as the slaloms will be streamed at hahnenkamm.com/paraski and broadcast live on ORF Sport+.
Those who prefer to watch the para alpine sporting elite (over 50 athletes from 18 countries) on site are very welcome. Admission is free to both races.  Refreshments and food will be available at the Red Bull Zielhaus. Those with the time and inclination should make sure they don't miss out on these top sporting performances.
---
Related Posts
---