Harti Weirather: "Victory at the Hahnenkamm is the Greatest"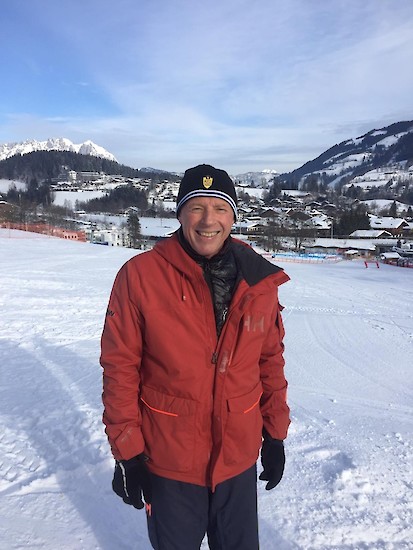 23.01.2019
While young athletes rise to the challenges presented by the Ganslern Slope during the Longines Future Hahnenkamm Champions Race, there is a man standing at the finish area who has already achieved what all these youngsters dream of: Hartmann "Harti" Weirather joined the echelons of Hahnenkamm Champions in 1982. The Tyrolean was a true Downhill specialist and celebrated no less than six World Cup victories. As the 60-year-old assures us, winning on the Streif has a very special place in his heart. We talked to Harti Weirather about the Longines Future Hahnenkamm Champions Race, his favourites for this year's Downhill and his special relationship with Kitzbühel:
Hello Harti, you are standing in the finish area of the Longines Future Hahnenkamm Champions Race. How significant do you think this event is?
Weirather: "I think it is enormously important, because these young athletes are the future. World class skiers repeatedly emerge from these races. That is why it is so good they can soak up the special atmosphere of the Hahnenkamm Races. The boys and girls are of course incredibly motivated to ski down the Ganslern Slope – that's logical. It also gives them a huge boost in motivation to stay on the ball and eventually become one of the world's best skiers."
The Hahnenkamm Junior Race has developed into a real classic since its inception in 2001. Would you have liked to compete here as a boy?
Weirather: "Yes, that would have been very cool, of course, had the event been around back then."
You skied, however, against the "greats" – and successfully to boot: you won the Downhill in 1982. How would you describe your relationship to the Streif?
Weirather: "It is a very special relationship, as one would expect. It is the greatest ambition for every skier to stand on top of the Hahnenkamm podium. It really is the highlight of every skier's racing career, in addition to winning Olympic Gold."
When you watch the Hahnenkamm Races as a spectator nowadays, you still feel the urge to compete?
Weirather: (laughs) "Every time I stand up at the start line, I think to myself: It's a good thing I don't have to go down there anymore."
Who are your favourites for Downhill victory this year?
Weirather: "That's very difficult to say, because at least six or seven skiers have the potential to win. The Italians are strong at the moment, Switzerland's Beat Feuz is a real contender and our skiers are currently in sensational form. There are certainly three of four ÖSV athletes who could win. I wouldn't even dare to predict who that might be."
Photo © K.S.C.
---