"ILLUSTRIOUS, INFAMOUS & HIGHLY COVETED"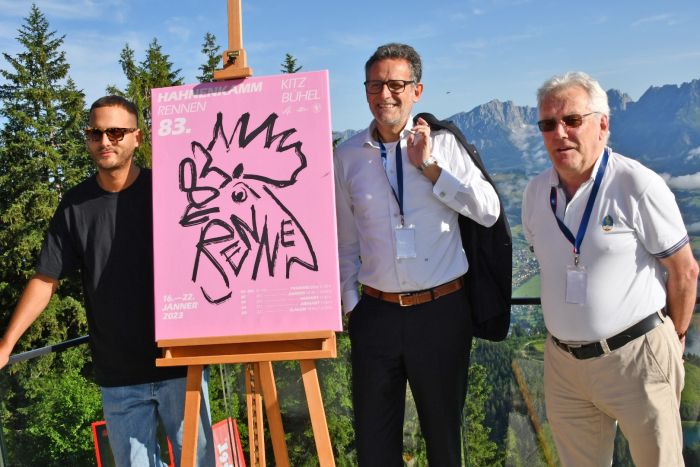 22.06.2022
Austrian artist and designer Dominik Schubert describes the elements of his design as "illustrious", "infamous" and "highly coveted". For him, the Hahnenkamm and its races are a symbiosis of awesomeness and the sensational.  His poster combines the boldness of the Hahnenkamm's silhouette with the clarity of the typography.
An independent jury of experts, drawn from partners of the Bank für Tirol und Vorarlberg AG (BTV) and Kitzbühel Ski Club, as traditional organisers of the poster competition, selected the official poster for the 83rd Hahnenkamm Race 2023 from a total of 1,024 submissions by 605 artists from all over the world.
At the presentation at Hahnenkamm Start House, BTV CEO Gerhard Burtscher expressed his delight:
"Once again, we were overwhelmed by the numerous creative submissions from the artists, which did not make the decision for the winning design easy for the jury members.  The diversity and artistic quality of the submissions have reaffirmed our decision to support the Hahnenkamm Poster Competition. The selected motif is certainly surprising and promises to attract plenty of attention."
Wilfried Leitzinger, Vice President of Kitzbühel Ski Club, added enthusiastically:
"For me, it is almost a miracle every time anew what human creativity can accomplish.  Posters advertising the Hahnenkamm Races have been designed by artists for over 35 years now. This year has again demonstrated that there are no limits to the imagination. I would like to take this opportunity to offer warm congratulations to Dominik Schubert on his design and look forward to the image that will be accompanying the upcoming 83rd races."
Designer Dominik Schubert referred once again to the elements of  his design:
"True to the maxim, "less is more", it was important for me to reconcile all essential elements in terms of content - the 83rd, Mount Hahnenkamm, the race - in a single, reduced key visual in my signature style." 
THE WINNER:
Dominik Schubert is a flamboyant, cheery pop artist, graphic designer and illustrator with an undeniable penchant for the colourful world of graphic illusion. During, but especially after, his architecture studies at the University of Innsbruck, he created his first illustrative works: ASIT was born in 2011. THE GREAT CREATIVE SHARK design studio was then established in 2018, which reflects its big brother ASIT in terms of style, but creates additional scope for designs that are not based on his signature form. Since then, he has worked regularly for SWATCH , where he is given the freedom to venture to and beyond his limits, especially conceptually. He lives and works in Vienna.
THE POSTER COMPETITION
The poster competition has been organised jointly by K.S.C. and BTV since 1990.  Proceeds generated by its sales are used to support Kitzbühel's up-and-coming young ski talent. The new poster will be available for purchase in autumn.

THE POSTER COMPETITION 2024

The poster competition for the next Hahnenkamm poster has already started. Join in and with a bit of luck you could be the next winner. More details at:
https://hahnenkamm.com/en/things-to-know/the-hahnenkamm-posters/#international-poster-contest-2024
---
Related Posts
---