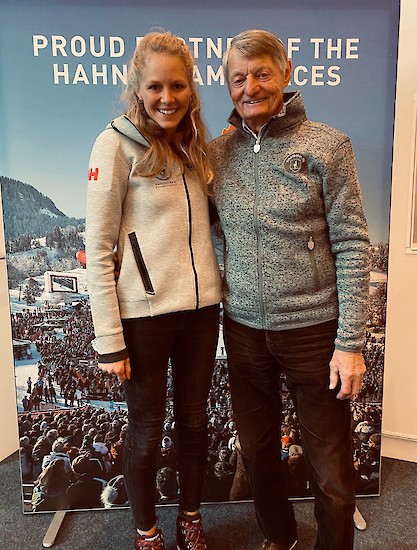 21.01.2020
We had a distinguished visitor at the press centre today: Skiing legend and Olympic champion Hias Leitner told us all about his former years, successes as a trainer at the Tyrolean Ski Association, and memories of his own ski racing career.
Hias, what do you personally associate with Kitzbühel and the Streif?
"I feel very connected to this place because I myself took part in the Hahnenkamm Races and grew up here. Ever since my youth, I've been a member of the Kitzbühel Ski Club and have experienced many beautiful moments here."
And, as a native of Kitzbühel, how do you feel having stood on the rostrum at the Olympic Games?
"That was a huge deal, as you can imagine – just to take part in the Games in America, and then to win a medal as well, amazing. It's at big events like this one or Wengen that the memories start rushing back. I made it onto the podium six times in Wengen and won the Slalom once. When I decided to move on from amateur sports, I spent eight seasons as a professional athlete. The difference was immediate, suddenly we were earning money. In hindsight, even amateur sports were very rewarding after the war because we got to travel the world – that really was very special. At the time, my friends only ever made it to Innsbruck, and there I was: traveling to America, Japan, Canada, and several European countries. 60 years ago, that was something else. I had also just started a construction management course, which always took place in the winter, so my skiing obviously put a spoke in that wheel. I just preferred to be out on the piste (laughs)."
I can imagine! At the time – exactly 60 years ago – you came second just behind Ernst Hinterseer at the Olympics – what was that like? Were you frustrated that you didn't come first or did the joy of receiving a medal outshine that?
"Well, you do feel a little frustrated, yes – I was winning a lot at the time, 4 medals in the Slalom, so you do put yourself under a lot of pressure. But you just have to be a good sportsman and say: Ernst raced much better at the time, there's no doubt about it. He was on top form, so you need to respect that and just keep skiing."
How well do you remember your very first Hahnenkamm Race as a spectator?
"It was the first race after the Second World War, so I was 11 years old and completely fascinated by it all. A lot has changed, of course – back then, we would ski in leather boots with rudimentary bindings and wooden skis. The piste wasn't prepared, either, there were no snow grooming machines. When it snowed very hard, we skiers would first form a slip crew ourselves – no one else was around – and then we raced. Instead of helmets, all we had were headbands."
So, you're saying the safety conditions were also vastly different back then?
Yes, very – they did try to use bales of hay to provide some safety on the piste at one point, but those were quickly phased out. When they got wet and froze, they became as hard as concrete, which was even worse than just racing straight down through the forest. You do need to take into account, though, that the material was much slower than it is nowadays – our pistes were bad, but our skis were slower, too.
Do you still ski on the Streif nowadays?
Of course, I really enjoy skiing down that slope and thinking about all the things we got up to in Kitzbühel. I still spend all winter on the piste, as long as the weather is nice. I catch the first cable car up at the crack of dawn and go home before the masses arrive. That way, you can still get a "proper" skiing session" in.
When you think back to your years as a trainer, what was it like back then?
"Well, I was part of the Tirolean Ski Association for 27 years and spent the first two of those training the youth team. Then I trained a few boys who went on to become Olympic and World Championship winners, starting with Leonhard Stock and Harti Weirather. I had just come back from America and that was my first youth team. I remember it well. Then there was Günther Mader, who won all four disciplines at the time - an absolutely outstanding achievement - followed by Stephan Eberharter, Benjamin Raich, Mario Matt, and Manfred Pranger, to name a few. Not to forget the many talented skiers who won World Cup races but never earned a medal, like Gruber Christoph and "Strobl Peppi" Rzehak Peter – nobody talks about them anymore. They all won, but were unlucky in that they didn't receive a medal. World Championship titles and multiple victories just overshadow everything else, it's a real shame."
And what would you say was your greatest achievement to date?
"I'll tell you what a really great experience was: when I was part of the same team as Toni Sailer, Anderl Molterer, Ernst Hinterseer, Christian Pravda and Fritz Huber. I was able to learn so much. We really were a strong squad and won quite a lot. A team like that was a novelty back then and a great success."
What are your hopes for the athletes competing in this year's 80th Hahnenkamm Races?
"Obviously, the most important thing is for them all to have an accident-free race to the finish line. I also hope that we can enjoy some great races, lovely weather, and – of course – that the Austrians win a little something."
Photo © K.S.C.
---
Related Posts
---