Presentation of the Hahnenkamm 2020 wine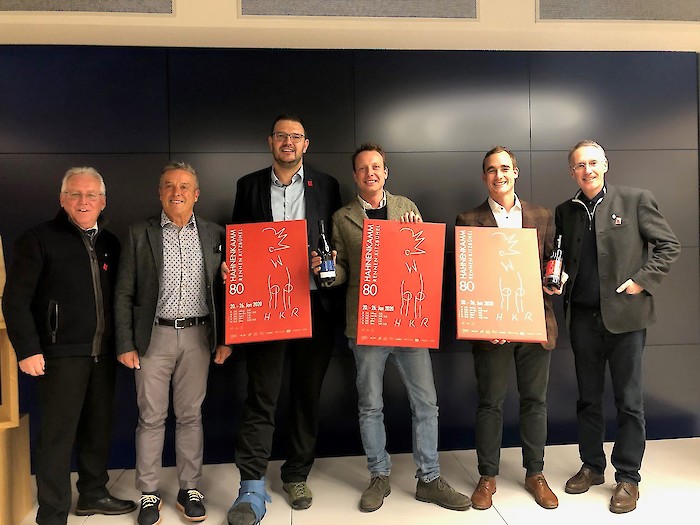 22.11.2019
Collaborative project launched between South Tyrolean Wine and Kitzbühel Ski Club. Presentation of the Hahnenkamm 2020 wine.
To mark the 80th anniversary of the Hahnenkamm Races, a collaborative project between the South Tyrolean wine industry and organizers of the Hahnenkamm Races, Kitzbühel Ski Club, was sealed today at Gustelier in Bolzano, where a South Tyrolean Pinot Blanc from Alois Lageder and a South Tyrolean Lagrein from the Kurtatsch winery were presented. They will serve as ambassadors for South Tyrol at various events during the Race Weekend from 24th to 26th January 2020. 
On the initiative of South Tyrol Wine Consortium, IDM Südtirol and the Kitzbühel Ski Club, a collaborative project was agreed in spring 2019 that endorses the selection, promotion and use of two South Tyrolean wines at the Hahnenkamm Races in Kitzbühel.
The two wines were presented today in Bolzano at the Gustelier Studio, in the presence of numerous representatives and guests of honour from Kitzbühel and South Tyrol.
After a pre-selection process with 37 participating South Tyrolean wineries encompassing 91 wine varieties, 6 wineries and 11 wines made it to the finals.  A tasting jury chaired by KSC President Michael Huber recently selected the two winning wines. They will have their own label emblazoned with the motif of the 80th Hahnenkamm Races.
Maximilian Niedermayr, President of the South Tyrol Wine Consortium, expressed his delight in this exclusive wine partnership during his welcoming address: "It is both an honour and an accolade for South Tyrol's wine industry to be able to make their presence known at the Hahnenkamm Races, with two quality wines from such renowned wineries as Alois Lageder and Kellerei Kurtatsch". This partnership supports the efforts of the South Tyrol Wine Consortium to present South Tyrol's wines to an international audience. 
Hansi Pichler, President of IDM Südtirol, underlined the importance of being able to present oneself at leading international events, such as the Ski World Cup in Kitzbühel. "The Hahnenkamm Race is a strong dynamic brand with a high sporting value, a major attraction on the international ski world cup circuit and a popular meeting place for the international entertainment scene." South Tyrol is a sought-after destination and country of internationally recognised top wines at the same time. In the run-up to the World Biathlon Championships in Antholz, Kitzbühel is an ideal platform for highlighting South Tyrol's competence at major winter sports events. 
Michael Huber, KSC President and Chairman of the Hahnenkamm Races, explained how this collaborative project came to be: "We decided on a wine from South Tyrol for several reasons. One is the premium quality of this product from South Tyrol, another is that many Kitzbühel people have friends and relatives in South Tyrol, combined with our sporting acquaintances from Val Gardena and Alta Badia and the close links we share with Wolkensteinritt. Not only that, two thirds of the Italian victories at the Hahnenkamm were accomplished by South Tyroleans. Moreover, many South Tyroleans are big fans of the Hahnenkamm races and come to watch them every year. This is exactly why a South Tyrolean wine is the perfect choice, in homage and thanks for the enthusiasm for our racing events".
Hahnenkamm 2020 wine: two characteristic premium wines from South Tyrol, two renowned South Tyrolean wineries
Alois Clemens Lageder describes the 2018 Pinot Bianco as radiant, clear, with a greenish-yellow hue, subtle aroma, distinct bouquet, youthful and fruity. 
Harald Cronst of Kurtatsch winery describes the South Tyrol Lagrein Frauenrigl Riserva 2016 as a wine of complex garnet red colour, with a seductive fruity fullness of wild berries and elderberries, black cherries and cocoa beans, dense and full bodied, with an individual earthy finish.
With a holistic understanding of nature, creativity and the joy of experimentation, Alois Lageder family winery produces wines that reflect the diversity of South Tyrol. In the spirit of biodynamic agriculture, the winery is constantly developing its knowledge, exchanging it with its winegrowers and transferring it to new areas.  Founded in 1823, the company is now run by the Lageder family in the fifth and sixth generations. The family winery in South Tyrol cultivates 55 hectares of its own vineyards in accordance with the principles of biodynamic agriculture. In order to optimally exploit the diversity of the region, the company cooperates with around 80 winegrowers from the region. They are linked by a relationship based on trust, and together they strive for agricultural awareness closely linked to nature. The assortment of wines comes in three lines:  classic grape varieties, compositions and masterpieces.
Unique locations from 220 to 900m - is the philosophy of the Kurtatsch Winery. Every grape variety finds its optimal location, its ideal terroir, in these breathtakingly steep vineyards. The elevation difference of almost 700 m in a wine-growing village is unique in Europe. The low sites are among the warmest in South Tyrol and are ideal for heavy red wines.  White wines find ideal conditions a short distance above. Since 2014, a young team surrounding winegrowing educator Andreas Kofler has been managing the winery and oriented it towards sustainable cultivation. Thanks to the 190 small family businesses that cultivate 190 hectares of vineyards, the very best grapes can be selected in accordance with vineyard locations. This and the careful development of individual vineyards, creates wines with a strong character that reflect the different soils and locations of where they grow
---
Related Posts
---