Slope sculpting with a 13-tonne groomer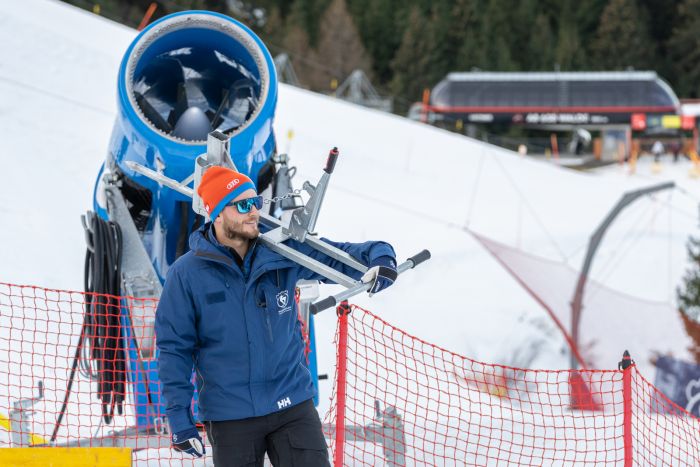 08.01.2023
January temperatures are settling back into the normal range, which also helps with work on the Streif. At the weekend, for example, in the Carousel turn.
Many smiling faces can be seen on the Streif this weekend. The positive snow check on Friday was not only a morale booster, but also confirmation of the excellent preparatory work that has been conducted since December, together with Bergbahn Kitzbühel. On Saturday, the schedule included snow preparation below the Mausefalle and approach to the Steilhang sections. For instance, the Carousel turn - which leads into the Steilhang - was given a "final grooming", as Streif Piste Manager, Herbert Hauser describes it.  This involves roughening up the snow surface with a 13-tonne piste machine, before mixing the snow with water and delivering a final flourish with the snow groomer to complete the section. This process is designed to compress the snow structure, because a more compressed snow structure means a greater snow weight, and a greater snow weight results in a more compact and race-ready slope. The desired effect: the more compact a racecourse is, the higher the chances are for athletes with higher start numbers to still achieve a good position.
While Patrick in the snow groomer cockpit and Herbert Hauser's team finish shaping the Carousel turn, a helicopter brings a snow cannon to the Steilhang and three to the Traverse sections: "If we get the opportunity to produce fresh snow, we want to take it," says Herbert Hauser, alluding to the falling temperatures. There is sufficient snow on the Streif, but combining old with new snow would make the run even more compact. As of Monday, the piste team (40 people) and the safety team (30) will be working at full capacity on the racecourse.
Photo © K.S.C./alpinguin
---
Related Posts
---