Fresh snow to start the week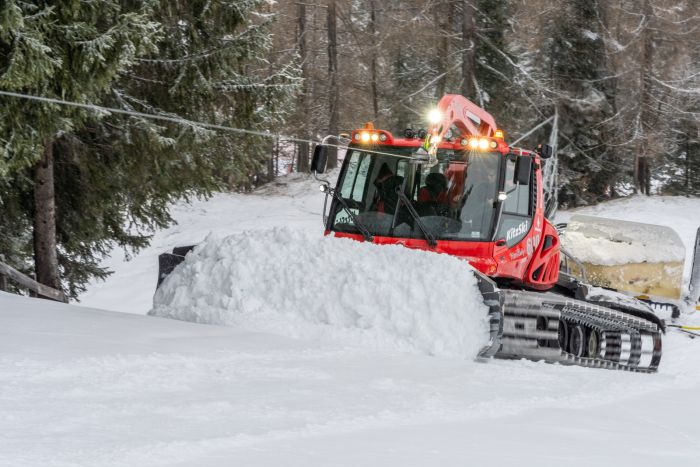 09.01.2023
Snow has finally fallen again on Kitzbühel's mountains! The piste and safety teams are now working at full swing on the Streif.
Monday saw up to ten centimetres of fresh snow on the upper half of the Streif – all the more reason for the piste and safety teams to happily and enthusiastically launch themselves into the task at hand on Monday. There is plenty to be getting on with for the 70 or so team members (with welcome support from the Bergbahn Kitzbühel Cable Car Co.): for example, fresh snow was mixed with old snow on the start slope with the help of water and a piste machine. This process consolidates the snow cover and thus ensures a compact layer. In other sections, slip crews moved loose snow off the course and work began on setting up the B-nets.
"There is also a lot of work to be done in the middle section, as this was still open to the public until Sunday. These sections are now being worked on with machines and the snow cover is being optimised everywhere," says Herbert Hauser, piste manager on the Streif. He is delighted with the arrival of fresh snow: " Thank God it snowed all the way to the Seidlalm. Now we hope that temperatures - as predicted - will drop during the night. Then we can expect a few centimetres of fresh snow in the lower area as well."
Meanwhile, the start area is being aligned with the Starthaus and flood lighting is under final construction alongside the entire course: this is necessary for any night operations on the Streif, for example if large amounts of fresh snow fall on the night before the races. The spectator area is taking shape at the finish area and is reminiscent of 2020 – the last time when tens of thousands of fans were able to cheer on their heroes.
Tickets for all three races are available online only. 
---
Related Posts
---