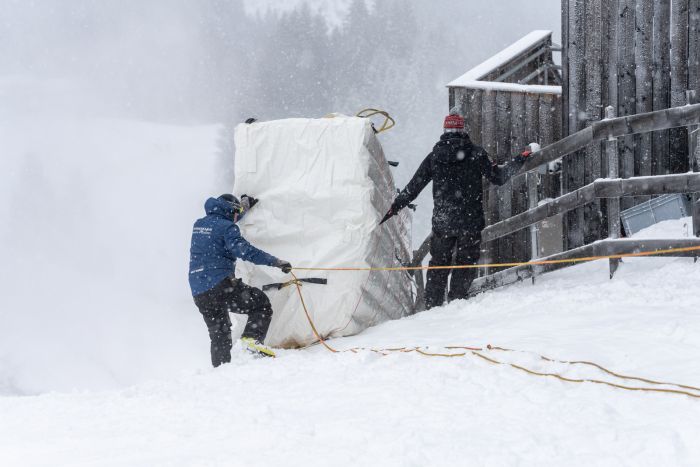 10.01.2023
Snow fell unabated on the Streif on Tuesday, as work continued to progress.  Piste groomers are currently busy blending new snow with the old and distributing it evenly over the slope.  
Heavy snowfall and icy winds made for challenging working conditions on the Streif on Tuesday. Airfences were nonetheless installed in the Mausefalle section. A tricky task that requires surefootedness, dexterity and guts in view of the 85 percent gradient - nothing would get done here without the use of crampons.
Scenes not far from the safety team illustrate the many elements that simultaneously interlink on the course at the moment: while Airfences are being installed in the Mausefalle section, a piste machine is preparing the steepest section of the Streif whilst suspended from a winch. A process that can be observed in several areas right now. Heavy machinery belonging to the Bergbahn Kitzbühel Cable Car Co. is mixing new snow with the existing base coverage and distributing it everywhere evenly. The affectionately named "Big Mama" was also put into action on the Lärchenhang and Hausberg on Tuesday: a piste machine with a substantial snow blower instead of a plough. It helps distribute the snow more "evenly" by milling away sections with an abundance of snow and blasting this layer into areas where there is a little less. If forecasts are correct, "Big Mama" will be receiving further support in the coming days: but this time from the heavens above.
Photo © K.S.C./alpinguin
---
Related Posts
---