"I was obsessed with the Streif" – interview with Hahnenkamm-Champion Daron Rahlves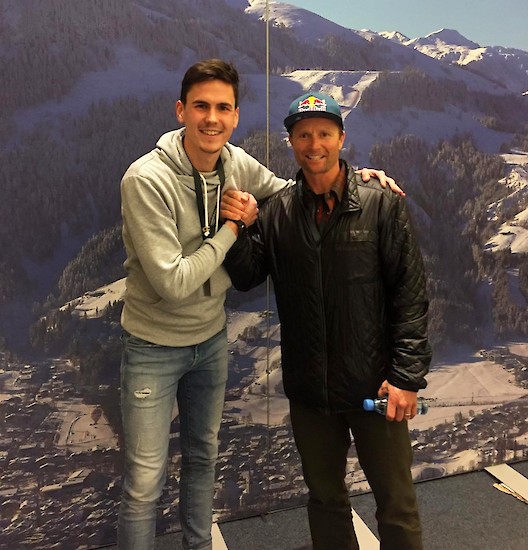 25.01.2019
Downhill winner 2003, Super-G winner 2004: Daron Rahlves and the Streif – a very special love affair. The former ski racer from the USA was considered one of the best skiers in the World Cup circuit in the 2000s. A premise that the 45-year-old impressively proved at the Hahnenkamm Races: between 2001 and 2006, Rahlves landed on the Kitzbühel podium no less than seven times in both the Downhill and Super-G – a sensational quota. We talked to the World Champion of 2001 (Super-G-Gold in St. Anton) about his special relationship with Hahnenkamm, important factors for winning at Kitzbühel and a possible ski-cross race on the Streif.
Hello Daron! Are you already excited about watching the 79th Hahnenkamm Races here in Kitzbühel?
Rahlves: "I am really excited. Kitzbühel feels different to any other place I go to. Even just arriving, I feel a little buzz in the legs and the body, you know, some chills. It is the toughest race hill out there in the World Cup."
Have you already been on the track?
Rahlves: "No, not yet. But I saw some footage from the Europacup Downhill. The Streif looks very challenging again this year. I spoke to the US-Ski-Team coach and he said that it is a challenging and fast racecourse all over again."
What is it that makes the Streif so special for you?
Rahlves: "I love the structure of the course: the first 35 seconds are equally demanding. The Steilhang section is crucial, you have to get it right and take as much speed with you as possible. The gliding section comes next, which is a little more relaxed. Then you have to give it your all after the Hausbergkante to make sure you are as high up as possible in the Traverse. It is almost impossible to get down the Streif without making a mistake. You can't have a perfect run here."
If you see the track tomorrow, do get the feeling that you would like to race in the Downhill again?
Rahlves: "In my heart yes, but my mind says no. I've come back to fore-run, and it has been more like a run to just ski and enjoy. When I was racing, I was willing to accept a calculated risk. I could give everything I had. When you push as hard as you can from start to finish on a hill like this, it's really satisfying in the finish area and I love that feeling. I trained really hard and ran this course in my mind all summer long, in the fall, in my dreams. Now I can just sit back and watch some good racing."
Who is your favourite to win this year's Downhill?
Rahlves: "I just want to see some good racing. I don't have any favourites. It would be nice to see an American on the podium. Bryce Bennett is looking really good and strong, He knows how to compete in a Downhill like Kitzbühel. And then there is Dominik Paris, I've always liked him. He is a true "cowboy downhiller" and I know he is ready for his next triumph on the Streif."
You have already won the Downhill once and the Super-G once. Which victory was more important for you?
Rahlves: "The Downhill has a lot more weight to it, more notoriety than the Super-G. My biggest accomplishment wasn't just winning the Super-G or the Downhill, however, it was the seven podiums that I achieved in five years. That was probably the most satisfying feeling and I am proud to have had such consistent form."
As a double Hahnenkamm Champion. You must know what it takes to win on the Streif?
Rahlves: "You need to know how to make a good clean turn and make speed. The most important thing you need is a big heart. I was so immersed in it and obsessed with the Streif. I was willing to take the extra risk. What sets the best skiers apart is their mental strength, the ones that have the confidence to really push. I always like that line that Hannes Reichelt once said: "You have to be willing to ski the killer line." That is the best feeling for an athlete: to know you have given your all."
Photo © K.S.C.
On another subject: after ending your active racing career, you switched to ski-cross. Would you say there is the potential to host a ski cross race on the Streif one day?
Rahlves: "You could make a good ski cross from the Alten Schneise over the Hausberg. If you just had two guys going down the Steilhang together, however, they would take each other out. If the Organizers want do that from the Alten Schneise to Oberhausberg, they should just give me a call (laughs)."
---
Related Posts
---