Talk with the chief of race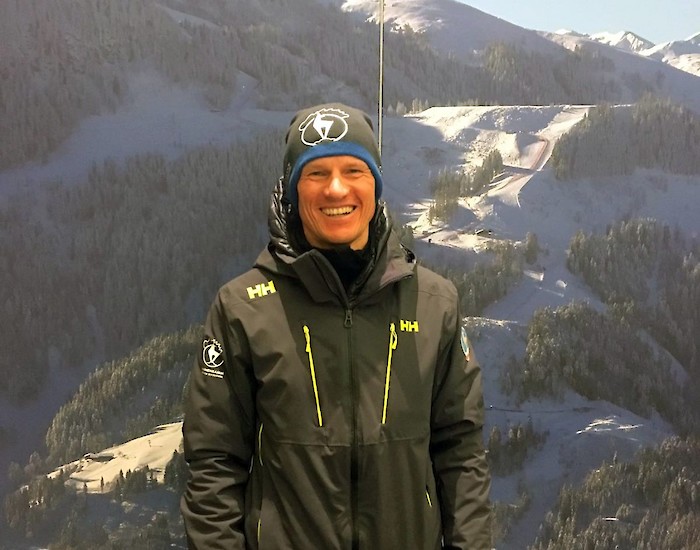 24.01.2019
Mario Mittermayer – Weinhandl
Resident in Bavaria, but originally from Kitzbühel, he took over the position as HKR Race Director in summer, relieving Axel Naglich of the position after his three-year stint as Race Director. Mario was a trainer initially at KSC, before changing to the German Ski Federation (DSV), where he took Felix Neureuther and Linus Strasser, amongst others, under his wing.
We met up with the new Race Director, Mario Mittermayer-Weinhandl, after the first WC training run and asked him about his duties as Race Director, his own dreams of becoming a downhill racer and the perfect Hahnenkamm Race Weekend.
Mario, what does a day in the life of a Race Director look like?
Mittermayer - Weinhandl: "I actually prefer to be on the mountain all day long. As Race Director, you are basically responsible for everything that happens on the mountain, i.e., the racecourse, the safety structures, such as nets etc. Hugely experienced assistants including Voithofer Herbert, Hauser Tom and Lindner Stefan on the Slalom are at work here, who provide great support and do what needs to be done. Discussions take place and ideas exchanged. I also bring my experiences as World Cup coach "to the table." It is why I make sure I am up on the mountain a lot."
What are the piste conditions like?
Mittermayer - Weinhandl: "Awesomely good. Despite the amount of snow, the men working on the mountain have done a brilliant job. It wasn't easy to manage. During the run-up to the races there was a worry it would be too uneven, because there was literally too much snow to prepare and clear away. But it's turned out really good this year. Especially along the Hausbergkante, the entrance to the Traverse and Kompression section is excellent."
What does a perfect Race Weekend look like for you?
Mittermayer – Weinhandl: "For me, the perfect Race Weekend is one where the spectators and viewers around the world can enjoy thrilling and spectacular races that perfectly showcase this great downhill sport and that there are no injuries. No crashes and no injuries. That would be a perfect Hahnenkamm Race Weekend for me!"
You have a background in ski sport, did you ever dream of competing on the Streif?
Mittermayer - Weinhandl: "Yes, always. I always wanted to be a downhill racer as a boy. Whenever I was asked to fill out a "Friendship Book", I always wrote "Downhill Racer" as my future career. For this reason, it is an incredible honour to make part of my childhood dream come true here. There is truly nothing nicer than being able to work for a cause that is close to your heart."
Photo © K.S.C.
---
Related Posts
---