Augert and Collombin - Hahnenkamm Legends of the Year 2023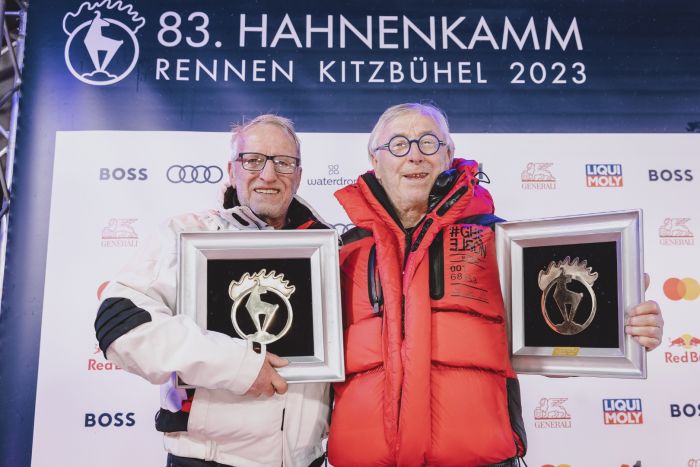 20.01.2023
50 years after their victories on the Ganslern and the Streif, Jean-Noel Augert and Roland Collombin were crowned Hahnenkamm Legends of the Year 2023 during an award ceremony at the Finish Building. 
Hahnenkamm Race organisers initiated the "Hahnenkamm Legend of the Year" award in 2013, and the list of winners thus far includes big names such as Anderl Molterer, Jean-Claude Killy and Karl Schranz. This year the award commemorates the 50th anniversary of special milestones on the Streif and Ganslern. The HKR Legends of the Year 2023 are Roland Collombin, who won the Downhill in 1973, and Jean-Noel Augert, who triumphed in the Slalom the same year. Both the Swiss and the Frenchman were consummate Kitzbühel specialists in the late 1960s and early 1970s. 
Roland Collombin competed "only" five times in the Downhill and won twice (1973 and 1974). He also set a new course record (2:03.29) in his 1974 triumph. During his laudatory speech at the Finish House, Michael Huber, President of Kitzbühel Ski Club, remembers well the daring athlete from Valais: "What the Crazy Canucks were in the 1980s, Roland Collombin was in the 1970s of the Alpine World Cup. A fearless daredevil and Downhill specialist. The consistently challenging conditions on the Streif certainly suited his style. After all, two victories in five race appearances represent a winning ratio of an incredible 40 per cent.  A true master of efficiency." 
Jean Noel Augert raced Downhill, Slalom, as well as the Giant Slalom and competed four times in the Kitzbühel Combined between 1969 and 1973. He was invincible in the Slalom on the Ganslern slope: between 1971 and 1973 Jean Noel Augert claimed four Slalom victories in succession - a record that still stands today (there were two Slalom events in 1971). Michael Huber is still impressed by the skills of the Frenchman from La Toussuire to this day: "At a time when France was winning so many races, Jean Noel Augert was an exceptional talent and an all-rounder on the Hahnenkamm, competing in Downhill, Slalom, Giant Slalom and the Combined. 15 performances without a single defeat in five years are an impressive testimony of his ability.  His running total of four victories, seven top-3 and ten top-10 results remain unparalleled."
Photo © K.S.C./EXPA/HANS GRODER
---
Related Posts
---