Helly Hansen extends its clothing sponsorship agreement with HKR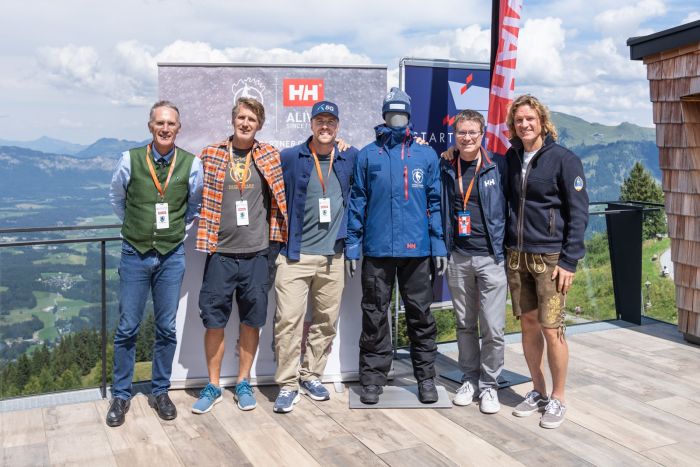 17.08.2022
The traditional Norwegian company is to remain the official outdoor clothing partner forfuture Hahnenkamm Races. Officials of the Kitzbühel Ski Club Organizing Committee as well as the Weirather-Wenzel & Partner (WWP) team will also benefit from being equipped with weatherproof and functional clothing over the next four years. 
Conditions were harsh when intense precipitation set in during Hahnenkamm Week 2022 in the night from Friday to Saturday and around 80 centimetres of snow fell on the Streif and Ganslern slopes. The mountain team worked around the clock to cope with the massive dump of snow and get the slopes back into race-ready condition - in strong winds and the freezing cold. An impossible task without the right clothing, so the Hahnenkamm Races Organizing Committee is particularly delighted that the clothing sponsorship agreement with the traditional Norwegian company, Helly Hansen, has been extended until 2026.The pleasing news was announced during the gondola presentation ceremony to current Norwegian Downhill winner, Aleksander AamodtKilde, on the "Starthaus" terrace overlooking the racecourse.
HKR Chief of Race, Mario Mittermayer-Weinhandl, gave a little insight as to why the right clothing is just as important as having experience in these demanding work conditions. "The best team is no use if you are not properly dressed - in other words, if you get completely soaked within a short period of time. Furthermore, the garment must not only keep you dry and warm, it must be robust as we work, amongst other things, with heavy machinery including water cannons and drills. Helly Hansen meets all these requirements, making working accomplishments such as the ones achieved last winter possible with their clothing range.
Helly Hansen has been the official outdoor clothing partner of the Hahnenkamm Races since 2019, with the 83rd edition of the races taking place next January. "We are delighted to continue to be brand representatives at the legendary Hahnenkamm Races and be able to support KSC for another four years with professional clothing for their work on and off the slopes," said JörgAumüller, National Account Manager for Germany, Switzerland and Austria at Helly Hansen. "The extension of the partnership reaffirms our working collaboration with professionals who have the greatest confidence in our brand."
For Michael Huber, the OC Chairman of the Hahnenkamm Races, "experience" is the greatest asset within the organization: "Be it the experience of the responsible officials in creating an annual sports venue in the wintry mountain terrain, or the experience of Helly Hansen in providing people with the clothing necessary to properly and safely perform the tasks at hand on the mountain in any weather. We are therefore all the more pleased and grateful that this experience will continue to be used in the service of successful race management!"
And the best part about it for the fans: the original Hahnenkamm Race cap and winter hat worn by members of the OC are also available for purchase in selected shops this winter. So everyone can enjoy that inimitable feeling of belonging to the big "HKR family."
Photo © K.S.C./alpinguin
---
Related Posts
---